(0 Kommentare) ... comment
For those of you who do have ROOTS in Austria: there is a camp in Austria this summer, on which you could come: July 9th to 19th, 2006.
Project: Spurensuche/ Back to the Roots 2006

The youth exchange project Spurensuche/ Back to the Roots is initiated by the Republic of Austria and takes place every year since 1994. This year 15 Israelis are invited to visit Austria for 10 days and join 15 Austrians for a trip through "landscape and history". Besides cultural exchange, new friendships and the chance to get an individual insight into nowadays Austrian society, the main objective of this project is to offer the possibility to trace the roots and marks of your family and relatives in Austria - and to be joined for this task by young Austrians. For this reason we are looking for people with close family connections to Austria and a high personal motivation to visit the country/land of their ancestors and/ or to look into archival files. The young Austrians will also be chosen according to their commitment and seriousness to look into their own family biography as well as to their interest to meet people from Israel.

Among other things the program entails:
A one-and-a-half-days hiking tour in the Austrian mountains (bring your rain-jacket and real hiking boots ), a visit to the memorial site of the former concentration camp of Mauthausen, encounter with today's Jewish life and culture in Austria. Furthermore, a visit to the National Fund of the Republic of Austria, which deals with claims of and restitution payments for the victims of the Holocaust is envisaged. And there is more besides lots of fun...

What we expect from you:
 Age: 17 to 25 years, good communication skills in English
 Israelis: People with close family connection to Austria, e.g. grandparents who lived in Austria and fled to Israel.
 Austrians: commitment to deal with the Second World War-period and the Holocaust, especially in the context of your own family.
 Openness, Sensibility and Motivation.
 Compulsory participation in the preparation seminar.

What you might want to know:
 You will have to pay for your flight to Austria. During your stay your expenses (food, travel, acommodation) will be fully covered by the Federal Ministry of Social Affairs and Generations.
 Preparation Seminar for Austrians: June, 17th (Vienna; ) for Israelis: Info at Austrian Embassy
 "Back to the roots-journey": Sunday, July 9th until Wednesday, July 19th 2006

Admission:
 Application deadline: May, 15th 2006
 You will be informed about acceptance: June 2006
 Further details concerning the application criteria can be found at: www.jugend.bmsg.gv.at
 Please send your complete application till May 15th to Federal Ministry for Social Affairs, Generations and Consumer Affairs, Sandra Konrad, Franz-Josefs-Kai 51, 1010 Vienna, Austria OR Sandra.Konrad@bmsg.gv.at
(0 Kommentare) ... comment
hallo all peacecamp-participants, kids and adults!
want to exchange infos?
want to show pictures?
want to do this directly on your own?
all right: just click:
http://peacecamptalks.blogger.de/
log yourself in*, and - GO!!!!!!!!!!!
*username and password are the same as here
(0 Kommentare) ... comment
you can use it independently:
just log yourself in and GO!
(0 Kommentare) ... comment
Layla Masalha about the second meeting towards summer-peacecamp 2005
In the meeting which was on Wednesday 18th of may 2005 in our school, Kfar Qari high school, Otman and us (the Arabic group) got together and we had to discuss a worksheet about various topics, and the levels of our
affiliation to them.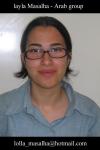 So we discuss some controversial issues, such as:
1- How much we feel affiliated to our religious, the Islam, and other Islamic symbols, for example: ALAKSA, THE KORAN and RAMADAN- (our fasting month). In addition everybody mentioned where he has learned these worships.
2- What is the connecter between the Palestinians (in Israel), and the Arabs who are from other Arabic countries.
3- How much we feel that we belong to the Israeli nationality, in addition, do we think that our fate depend upon the fate of Israel!!!
4- The importance of different cultural ways to solve the conflict by Jewish and Arabic poets, and which way of them more successful in our eyes.
5- The importance of the "calamity" and the "dependence day" for us- as Israeli Arabs.
Then Otman gave us other worksheets which we are going to discuss in the next meeting.
Now, for me…
That meeting was very interesting for me; especially it gave me the opportunity to listen to other aspects, viewpoints and to other participants who have different opinion than me.
Actually... until now (even it is only the second meeting) I feel that I can to define and express my self better than if I did not join this project, because Otman really helps us to discover our personality and identity by his guided questions. By:
Layla masalha
Arab group
20.05.2005
(0 Kommentare) ... comment
PLEASE READ: Saul's mom to all the camp-participants
Hallo, all camp participants, all mother and father of the the participants, I am Saul's mother!

I am so happy that Saul had the opportunity to participate in the peace camp. I certainly envy him for the experience and the friends he made. Looking at the blogs i could see that everybody wanted more free time to just be together with their friends. So I was wondering if there would be any interest in maybe the Austrian parents oranising a holiday camp in Austria for the WHOLE GROUP sometime next year. What would it take so that everybody from the group would/could come? I certainly would love to meet the other parents. When would be the best time? Could we make it into a music and dance camp?

I was not thinking of an official Evelyn peace camp - but really of something that the parents organise as they wish - as cheap as possible. We would look at all the costs (flights and everything) and split them up evenly among the whole group. That way the Austrians would also be participating in the flight costs. Would somebody (Ben?) take this message and translate it into whatever language is necessary and pass it onto all the kids and all the PARENTS? Manuela, are you going to translate it into German and pass it on?

Love to all those I know and don't know,

ella ferguson
(0 Kommentare) ... comment
PLEASE READ: Ben's letter to us all
To All the camps Participants!
I have talked to people in the camp concerning the matter of meeting again.
it seems that EVERYBODY wants to meet again!!
I am writing this here because I see that each person, including me, has different plans to fly somewhere and see their friends again. I am sure EVERYBODY wants to see EVERYBODY again, and if we all make plans separately we simply could not meet together. so please! let's talk, Email, ICQ, MSN Messenger, whatever!! let's just communicate and plan together, at the same date, at the same continent!
if we will meet again -with no Teachers or so...(if they'll want to come they will have to sleep boys and girls separately! ;) - it would definitely be an unbelieveable experience for all of us.
so Please! if you want to make this happen do something!
:)
Ben
(Toati)
(3 Kommentare) ... comment
nili's letter to us
3/19/2005

Hello to all from sunny Israel and thank you for coming to the screening of the project's movie.

I felt that even though I am far away in Israel – I would like to tell you about the importance of the work we try to realize by this project.
I am an Israeli-Jew, born to a Polish Jewish father who came to Israel in 1950 as a refugee after the second world war, and to an Iraqi-Jewish mother, who was smuggled into Israel in 1950 all by herself in the age of 12. Their meeting was able only in Israel – the new home of the Jewish people. But Israel was not empty when the Jews came to settle down on its land. A big population of Palestinians was living here for decades.

The result of this is knows to all – the 1948 war known to the Jews by it's name – The Independence War, or to the Palestinians as "Al Nakba" (the disaster).
Since, both people experience years of wars, bloodsheds and loss. Each generation is praying for new life of peace and quite, which never come.
In the meanwhile those Palestinians, who were not deported or did not escape in 1948, became what we call "The Israeli-Arabs" or "The Israeli-Palestinians". They are torn between their Palestinian Identity and the Israeli Identity.
The Jewish population, from the other side, is torn between the Jewish Identity and the Israeli Identity.

Processing the crucial questions about these issues are not being done in the regular educational system. Not only it is not being done, it is being ignored by purpose.
Not dealing with these issues means that they are solved or do not exist?
Of course not – they are growing and growing without being able to solve them or building a bridge to a common identity to both the Israeli-Arabs and the Israeli-Jews. Not dealing with the important questions makes thing worse and worse.

From the other side – the Jews try to struggle their Holocaust trauma – the first generation, the second generation and now the third one. The third generation of Austrian youth has also to deal with what has been done by their grandfathers or their people as a whole.
Again, not dealing with these issues – don't solve the trauma, but enlarge it by acting it out and not working it through.
And how does the third generation of Israeli Palestinians is being effected by the Holocaust trauma? That is another important question we deal with.

Our project is trying to do what the Educational Systems of countries don't always manage to do. With only a good will, deep commitment, work of thousand of voluntarily work, and the understanding that this must be done – we try to take youth of these 3 cultural-religious groups and to make them face and understand those issues.
We - the team - don't only struggle with funding the project, the long work ours - but also with the important essential questions that are being raised by the parents and kids concerning the project, and overcoming our own differences of culture and behavioral cods.
Realizing such a project with a mixed team of Palestinians-Israeli, Jewish-Israeli and Austrians is not an easy task, and we learn not less than the kids themselves.

The first project has been done successfully, and we try to implicate its lessons.
The second project with the same groups now on its way to be, and we still face the difficulty of funding it.

Any contribution for this important project will be received with deep thank of all the participants. And hopefully we will be able to go on with this major important work with more and more youth of different cultural groups.

Thank you in advance, Nili Gross
(2 Kommentare) ... comment