Some feedbacks are still missing: Rami, Chadra, Asseel, Achmad, Allah and Livnat:
Please send them quickly.
Dear participant of the spring-peacecamp 2005!

Please write an essay relating to the following questions:

1. Describe the peacecamp which took place in Israel from March 31st to April 7th.
What were its main parts? Describe what you have seen, experienced and learned.
2. Describe your personal feelings and thoughts related to this camp. What did you receive from this camp? What was missing or unsatisfying?
3. What was left open and unresolved and with what open questions do you find yourself now, after the second peacecamp?
4. What would be your wishes, expectations and suggestions for another peacecamp?

Please relate to all questions in as much detail as possible.
(0 Kommentare) ... comment
Gabrielle the dancer
watching the peacecamp-movie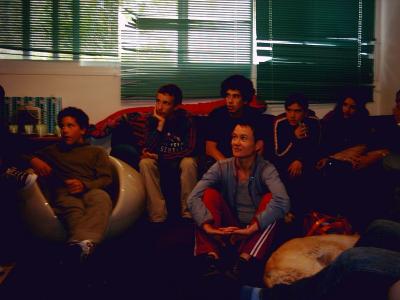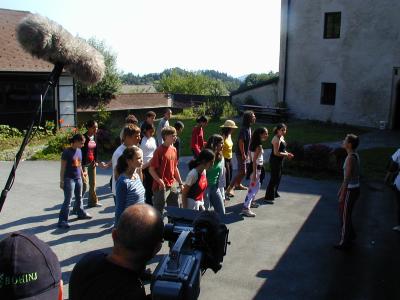 Gabrielle making peacecamp dance....
in rechberg....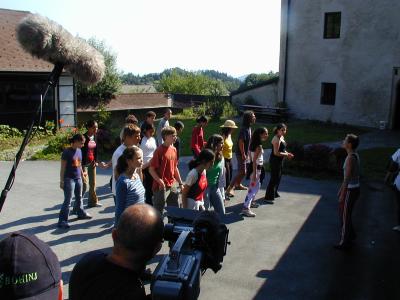 ....July 2004
rehearsal for the big show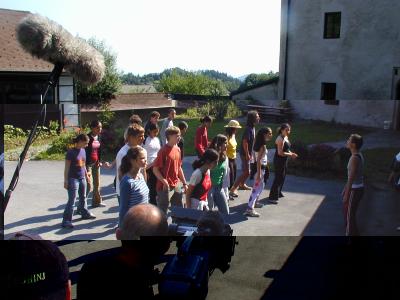 (0 Kommentare) ... comment
Itay's feedback and thoughts on springcamp 2005
My name is Itai and I was part of the peace camp that took place in Israel. The camp was absulotly great!! I enjoyed alot of things: meeting my friends (arabs and Austrians) again, all the trips in Israel, visiting the Arab kids homes, practicing my English and of course the food. It was very exciting to meet all my friends again, and a little bit weird too, because I did'nt see them for a long of time.
In the trips we visited a recognized and unrecognized Bedouin villages – We saw how they live and even participated in a ceremony. We slept in a Bedouin tent. Afterwards we went to the Dead Sea to have some fun – after all it's the lowest place in the world and I think the only sea you can float on the water. That evening we travled by bus to Jerusalem, where we slept and had a trip to the old city. After two nights in Jerusalem, we slept in Kalanswa – the village of the Arab group – and in the morning we went to Nazareth for a tour and we went to one of the Jewish kids' house – in the Galilee. Next day we went to Gaash (a kibutz) and spent the night till 3 in the morning when we started our way to the sad part of the camp – separation. We got to the part when the Austrian left us. It was very sad. Everybody wanted them to stay.
We all knew we want, and we will meet again.
The camp made alot of new relationship between the 3 groups, and tightened the relationships that already excited.
(0 Kommentare) ... comment
Dor's feedback&thoughts on spring-camp 2005
In my opinion the camp in Israel was kind of finish the unfinished matters of the camp in Austria.
The main parts for me was the part I have get to know in the first morning that someone decided to "borrow" my cell phone...
The second one was when I myself running after a camels convoy!!!!
The third part was the part we have to say goodbye at the airport...
The fourth and the last part was the night we spent in kalanswa!!! NO ONE WILL FORGET IT!!!

I felt that the camp in Israel was much more "relaxed" camp from the free time point of view but still it's NEVER ENOUGH TIME!
It doesn't matter how much time we will be together; it's still not enough!
The only part that I felt that was unsatisfying is the time we was so close to bat-hefer (where I live), but still we haven't gotten into the settlement...
I don't really think that there is an opened issue after the last question that left opened after the camp in Austria (in my opinion). The question was: how are we going to be ONE group and not three, and I am thinking we solved this question in the last camp.
(But I can think about something bigger than opened issue right now, I can think about a project, a new one and a better one and I am sure it will be better 'cause every time we make it better!)

I wish that we shall all see each other again (and as soon as possible!) but next time not in Austria and not in Israel (somewhere between them) and keep our special camp alive once in a while.

Dor
(0 Kommentare) ... comment
Nili's feedback on the feedbacks
Dear Friends,
I have read your feedbacks about the Identity-Peacecamp – Israel 2005, very carefully. You have all expressed your experiences in a beautiful and opened way, which allowed me to learn so much about the Spring Project.
First, I am very happy to know that as a whole – the camp-trip in Israel has been a success in many ways:
• It allowed you to deepen your relationships with each other.
• To get to know the Arab group's culture (in this case – the Jewish group felt a kind of discrimination, since you haven't experienced things which concerned their culture).
• Seeing as much of Israel as possible in only 6 days (Believe me, there is still so much to see).
• To feel your awareness towards dilemmas of identities, and other important questions increasing.
• Wishing to meet again, and stay with a taste for more.
About the legitimate complaint about the adults' behavior:
We, the team members, have only good intentions in initiating these projects. We all work voluntarily in order to realize them, because we have a deep faith in what we do and want to achieve. We walk in this path, not only in front of you, but also side by side with all of you. This means – we learn, as we go, just like you. We – the adults did not have the chance to participate in projects like these when we where teenagers like you, so sometimes we find it even harder to change attitudes and concepts as grownups, more than you as young – still being shaped people. We have our faults and weaknesses and we try to learn from them as much as possible – we overcome our differences and battles, we apologies when we hurt each other and the best evidence to this is that we still go on with this important work.
Yes, you witnessed some unpleasant arguments and differences, which we might have done other way, but I hope that your comments and our understanding will teach us to manage the next project in a better way.
Believe me that to manage projects like these are not an easy task, and what looks sometimes like a small thing – takes weeks to prepare and a lot of energy to succeed. We are sometimes under a lot of pressure concerning you well being – are you happy? Are you not hungry and thirsty, are you sleeping enough? Do you have enough free time? Are you safe? Are you stressed? And we can go on and on. Sometimes the pressure gives its signals in ways, which are not correct, and I agree that we should pay more attention to it. Sometimes we – the team, absorb your pressures and unpleasant energy and allow you to free yourselves from them.
However, there is no excuse for us. I promise to take your comments under consideration and I am sure the rest of the team will also. Your sincere reports will help to make the next project a better one (is it possible at all??) and we shall probably make new mistakes as well.
Aren't we all, after all, only humans? The best thing is at least to have good intentions and to try to learn as we go.
Thank you for walking with in this path. I will treasure it always.
Yours, Nili
(0 Kommentare) ... comment
Reut's feedback&thoughts about spring-peacecamp 2005
First of all I wanted to say- or write- that after the last peace camp in Austria I thought that I would never have more amazing week then the one that I had, but I soon found out that I was wrong…
When Nili first sent the e-mail that said that we will have another peace camp only in Israel, I couldn't believe it- I was going to meet all of the amazing people that I thought I would probably never see again. But with the great happiness I also felt that because it is going to take part In Israel we would go to the same places that I saw million times before, and I will here the same explanations that I heard in every school trip- but when we started the camp I found out that the guide was talking most of the time about things I didn't even knew that happened in my country.
Spicily during our time in Jerusalem, that for me felt like I wasn't in Israel anymore.
It was also important in my mind that we had been In the Bedouins villages and we had the opportunity to see the conditions that they have and to experience in a different culture and costumes then my own.
Even though the whole learning experience was important for me this peace camp meant more of a friendships camp, it wasn't like the first one, in which we had a lot of discussions about our identity it was more relax and free in a way.
The two peace camps had taught me a lot about myself- they gave me tools for shaping my identity and in them I learned how I react to other people that come from a different background then me.
I would really love if we could all get together even one more time for another peace camp, because it was the most meaningful experience in my life.

To all of you "youth"  I loved spending this time with you all again love you and hope that they would be 100 more peace camps !!
Love

Reut Levy-carmel, Israel 2005
(0 Kommentare) ... comment
Or' feedback&thoughts after spring-peacecamp 2005
First of all, I have to say that this camp was great like the last one, if not more. The organization and schedule were very good, and I felt we certainly "covered" most of the important sites and places in Israel, at least as much as we could in one week.
I think the last camp was more about identities, the conflict and discussions about these subjects. During that camp I learned a lot about my personal identity and myself. I feel that the spring camp was focused on learning about others: Sleeping at the Arab's houses, visiting the Bedouins, visiting the churches, mosques and synagogues.
I think it was very good that I learned so much about others, because at the last camp I got to know the people personally, but I hardly got to know their cultures and religions. I think it's very sad that though Israel combines the three religions, we know so little about each other. Also, I think the Jewish people in Israel know almost nothing about the hard situation of the Bedouins, and something must be done about it! They pay taxes, some even go to the army, but we don't give them their very basic rights.
The camp contributed a lot to me, especially the interaction with the other participants of the camp. I built new friendships, and old ones just got deeper. Unlike the last camp, in this camp the Arab group opened up to us very much, and we all became one united group- not three different groups. I hope we will all have a chance to meet again in the future, because if not- it will be a "waist" of very strong connections that were made in the camp.
I think there were a few small problems in the camp too. First of all, I think the guide wasn't necessary. On the summer camp we did well without him, and sometimes it gave me the feeling that we're in some kind of tourist trip in Israel, and I think that wasn't the goal of the camp. Furthermore, the adults interfered too much! I feel the camp was more about them, and we were just an addition to them. They fought a lot and didn't want to listen to each other. I think that symbolizes that we- the young generation- are the future of the world, and if we can listen to each other without fighting, we're probably smarter than the adults in some way!
I also think that the psychoanalytical sessions weren't so successful. I didn't really learn anything new in these sessions, and it didn't clarify things for me- maybe just made things more complicated and created new unanswered questions.
Even though there were some small problems (and that's normal), the camp was so great that I hardly noticed them. I thank everybody who made it possible for the three groups (now one group) to meet again, and hope there will be more projects similar to this in the future- because every small project is one more step towards peace and coexistence.

Or Gross
(0 Kommentare) ... comment
Eilam's reflections on spring-peacecamp 2005
The week spent together in Israel, was something of a continuance. The picture was wanting to spend time with friends; using seven days in the best way possible, to store strong memories of all the amazing experiences happening. More than that, it was also about finding the borders, or more nicely phrased, differences, and getting over them, behind them, between them. Playing with it.

It was all personal. Being there, you could see special interactions between just everyone and everybody else. Some loved by others, some bonded, some not so understood. Everything and everything was in there, somehow; again, love; cooperation; mistery; affection; game; weakness; weirdness; humour; hunger; thirst; desire; patience; tolerance; self-containment; confusion. Every night was different, every day a different host. Lonelyness, privacy and togetherness.

It was fun and hard. Tough but short, too short. I don't believe something from this, could make it up to anything closer to a national level, but at least all of the participants have been sucked into an international-intercultural mind. Slowly, this sort of activities can change individuals anywhere, to act on a personal level, without pregiodism. The one thing that we must understand, is that achieving such an accomplishment takes a lot of time and a lot of learning.

Just to give another view, my personal gain and expeience. I've gotten much closer to everybody involved in the project, I'd say even more than to some people I've spent three years with, in the same class at school. I've learned a lot, how to act in various situations I may encounter during life. I get out of this week wanting more, and I know I'll get to be with the people I met here more.

For now,
Eilam.
(1 Kommentar) ... comment
Mor's comments on Spring- peacecamp 2005
Mor's comments on Spring- peacecamp 2005
The camp that took place in Israel was once again a great experience. In the first three days we were in the Negev, down south. We visited different types of Bedouin villages and learned a lot about their culture and their difficult way of life. We also went floating in the dead see, i'm sure that was a great experience for the Austrian group. On the third night we arrived two Jerusalem and the two days we spent there were wonderful. We visited different sites that were important to the three different religions and saw many interesting parts of the city. After Jerusalem we arrived to Kalansua and spent the night there. I never imagined that I, a Jewish Israeli, would spend the night in an Arab village, but thanks to the project I did and I am grateful for that. The night in Kalansua was one of the best nights during the whole week and I had a really good time there. The day after we travelled north and we were hosted at Ben's house, on of the Jewish Israelis. I enjoyed our night there and especially the beautiful view. On the last day we had an analytical workshop during the morning and after that we went to Gaash, a kibbutz where one of the Jewish kids lives and spent most of the night by the beach. After that we drove to the airport and said goodbye.
What I really liked about this camp was the fact that we even got closer to each other and the Arab group also opened up and everyone were united and together.

This camp gave me a lot on the personal level, but mostly I had fun. If we put religion and politics aside we are all the same and we just want to live our lives simply and peacefully.
I hope someday we will all meet again. I know I will be travelling to Austria during the summer, hopefully. I think that initiatives like the peace camp are very important and that there should be many more projects of this kind. Only projects like this one have the true power to make a change. As corny as it may sound, we are the future and we have the possibility to make a change. Even a small piece of the puzzle will maybe be the one that will eventually complete it and make it a whole.
(0 Kommentare) ... comment
Sarah's feedback&thoughts about spring-peacecamp 2005
On 31 March we arrived at the Ben Gurion airport in Tel Aviv. I was
really happy that I was able to see everybody again as I had been looking
forward to this journey for months.

The meeting at the airport was great and really emotional.

I think we all knew that the following week would be as great as the week
that we spent together in Austria.

The main issues of this Camp should be the three religions, the Holocaust
and again identity and personality.

We saw a lot of beautiful places in Israel, for example the desert. It
impressed me so much and the whole country is really fascinating. You can't
describe the feelings you had when you show somebody the photos. You have
to
experience it yourself. And I am glad that I was able to experience it. I
think a lot of people have the wrong impression of Israel and life in
this country. And I have to say, this is a pity.

What impressed me a lot was the city Jerusalem. I think it is really good
that three religions can exist in such a small place of Earth so close
together. Especially in a country where a lot of problems because of
religions exist, something like that is very special and important. I think
Jerusalem is the example for the fact that different cultures and religions
can exist together and close to each other.

The relation between the members was still great. We all had tried to keep
contact during all the months we didn't see each other and as you saw, it
was possible. We were able to communicate right from the beginning and also
the relationship to the Arab group was really good. I talked more to them
this time and we had good and funny conversations.

I enjoyed the night that I spent in Qalanswa at Reem's place -Thank you a
lot
for everything, it was great-

What I didn't like so much was the last day with the psychologist. I think
we
could have used the time in another way. We could have talked alone, about
something we want to talk about. At first we were sitting in this room and
no one knew what to say. But I also have to say that it was one of the
funniest afternoons that week.

Another thing I didn't like were the quarrels among some of the adult
participants. I know
that everyone has their own opinion about certain issues and everyone has
the
right to say it freely. But I think if you want that your opinion is
accepted, you also have to accept the other opinions.

Although the teachers talked a lot in the discussions and apart from the
quarrels, the discussions we had were okay.

There is a German saying which means: "Aller Guten Dinge sind drei".

So I would really like to have another Peace Camp. Maybe in a totally
different country.

I liked both of the Peace Camps like they were, all of them were good and
the
next would be better.

For all the coming Peace Camps and all the next boys and girls who get the
great chance to participate I wish that they will have the same great
experiences and that they will build up connections and friendships that
are
as good as the friendships that we have now.

Sarah
(1 Kommentar) ... comment